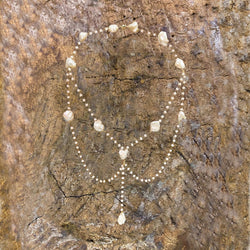 Chiara Bcn Jewelry
DIADEMA WHITE KEISHI PEARLS GOLD BRONZE
Available for delivery in APROX 2WEEKS from the date of the order(excluding shipping times) 
Choker in natural bronze with white keishi waterpearls from
French Polynesia from an exclusive cultivation and with opal zircons ,handmade by the designer all is MADE IN ITALY. 
DIADEMA WHITE KEISHI PEARLS GOLD BRONZE , are made with the technique of the "ROSARIO" any imperfections characterize and emphasizes the uniqueness of the piece. 
Rosario length is 40cm and the final length from the magnetic clasp to the final point of the pendant drop pearl is 30cm approx 
ONE SIZE ONLY with a bronze gold plated magnetic clasp but if you are interest it's possible a BE SPOKE SIZE by REQUEST in DM or email or whatsapp.
Price 350€ +shipping