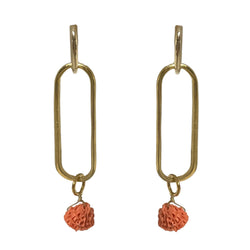 Chiara Bcn Jewelry
OVALS RINGS RED CORAL PAPUA GOLD BRONZE EARRINGS
Earrings in natural bronze, handmade by the designer all in MADE IN ITALY.     
OVALS RINGS RED CORAL PAPUA GOLD BRONZE EARRINGS, are made with the technique of the "LOST WAX" and imperfections characterize and emphasize the uniqueness of the piece.     
Orecchini in bronzo naturale,con coralli rossi della Papua Nuova Guinea realizzati a mano dal designer tutto in MADE IN ITALY.   
GLI ORECCHINI OVALS RINGS RED CORAL PAPUA GOLD BRONZE , sono realizzati con la tecnica della "CERA PERSA" e le imperfezioni caratterizzano ed enfatizzano l'unicità del pezzo.   
Le clip/perni sono nichel free   
Prezzo 180€  
Eventuali piccole differenze rispetto alle immagini esprimono l'unicità di ogni creazione e la loro realizzazione è in bronzo finitura colore oro, argento e rosa. 
La lavorazione Made in Italy è artigianale, ed avviene attraverso la tecnica del traforo o cera persa. 
Queste leghe metalliche sono "metalli vivi", possono subire alterazioni a contatto con l'aria, con il PH cutaneo e/o con agenti chimici e quindi rilasciare delle ossidazionidi colore sulla pelle facilmente rimovibile con l'acqua.