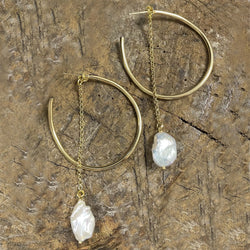 Chiara Bcn Jewelry
SATELLITES GOLD BRONZE WITH WHITE KEISHI PEARLS
Available for delivery IN APROX 2WEEKS from the date of the order(excluding shipping times)
Semi Hoops earrings in natural brass ,gold plated, handmade by the designer all is MADE IN ITALY.

The diameter is approximately 4,5cm for the unusual shape were the chains longer 6cm hanging white waterpearls pendants from French Polynesia.
Weight aprox 5.5gr each
Final length is 7,5cm aprox from the post to the final keishi pearl

The post are nickel free.

Only 50pcs LIMITED EDITION

Price 160€+shipping