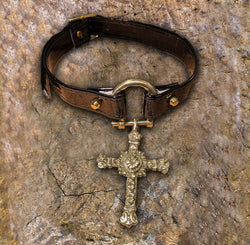 Chiara Bcn Jewelry
MEDIEVAL CROSS BLACK PATENT LEATHER CHOKER
ONLY 5PCS LIMITED EDITION Available for delivery IN APROX 2WEEKS from the date of the order(excluding shipping times)
MEDIEVAL CROSS BLACK PATENT LEATHER CHOKER GOLD BRONZE 
in natural bronze and black patent leather with gold bronze pendant cross,handmade by the designer all is MADE IN ITALY.
The cross are made with the technique of the "LOST WAX", and it has suspended from the choker where is adjustable and opens by unscrewing.
Every imperfections and irregularity characterize and emphasise the uniqueness of the piece. 
THE SIZE IS ADJUSTABLE by closure buckled in the back
price 240€ + shipping