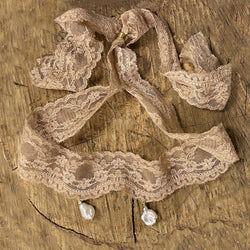 Chiara Bcn Jewelry
LACE & WHITE KEISHI PEARLS CHOKER -NATURAL COLOR
Available for delivery IN APROX 2WEEKS from the date of the order(excluding shipping times)
A ribbon
 of Lace,with  hanging 2white KEISHI waterpearls pendants from French Polynesia.
All is handmade by the designer and MADE IN ITALY.The white
Keishi waterpearls attached to the lace by a small pyrites bead situated on the top of each pearls.
every imperfections and irregularity characterise and emphasise the uniqueness of the piece. 
Adjustable misure for each size by a circle ring inside which the two ends of the ribbon slide.
Final length of Lace is 90
cm approx and the hight is 3,5/4cm
Only 10pcs LIMITED EDITION