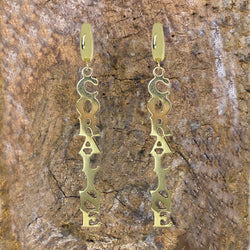 Chiara Bcn Jewelry
CORALINE EARRINGS GOLD BRONZE
LIMITED EDITION CORALINE EARRINGS
ONLY 20PCS LIMITED EDITION
Available for delivery IN APROX 2WEEKS from the date of the order(excluding shipping times)
CORALINE EARRINGS GOLD BRONZE 
All is handmade by the designer and MADE IN ITALY.
Earrings in natural bronze, CORALINE letters are made with the technique of the "TUNNEL LAB".
Any imperfection and irregularity characterize and emphasize the uniqueness of the piece. 
The pin back are nickel free gold plated.
Final length  is 7cm approx from the back post to the final point od the last letter.
Price 105€  +shipping