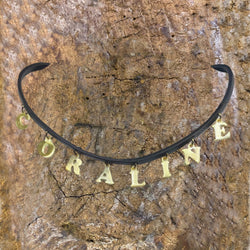 Chiara Bcn Jewelry
CORALINE BLACK LEATHER CHOKER GOLD BRONZE
LIMITED EDITION CORALINE BLACK LEATHER CHOKER
ONLY 20PCS LIMITED EDITION 
Available for delivery IN APROX 2WEEKS from the date of the order(excluding shipping times)
CORALINE BLACK LEATHER CHOKER GOLD BRONZE
All is handmade by the designer and MADE IN ITALY.
The choker in black leather with gold natural bronze pendant letters attached by a small brass ring situated on the top of each .
The CORALINE letters are made with the technique of the "TUNNEL LAB".
Any imperfection and irregularity characterize and emphasize the uniqueness of the piece. 
Adjustable misure for each one size by a clasp on the back which the two ends webbing are.
Final length of leather is 38cm approx and the hight is 6mm but iIT IS ALWAYS POSSIBBLE ADJUST THE SIZE BY CUTTING THE LEATHER TO YOUR LINK
Price 115€  + shipping