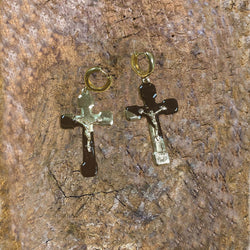 Chiara Bcn Jewelry
BLACK DIAGONAL CROSSES
Available for delivery in APROX 2WEEKS from the date of the order(excluding shipping times) 
Earrings in natural bronze with black enameled ,handmade by the designer all is MADE IN ITALY. 
BLACK DIAGONAL CROSSES with the technique of the "LOST WAX" any imperfections characterizes and emphasizes the uniqueness of the piece. 
The pin back of the semi-circle chains links are nickel free. Final length is 5 cm approx from the back post to the final point of the cross. 
Price 135€ +shipping