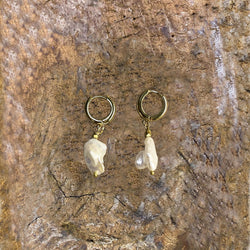 Chiara Bcn Jewelry
CHIPS WHITE KEISHI PEARLS

Avaible for delivery in APROX 2WEEKS from the date of the order(excluding shipping times).

Earrings in natural brasa,gold plated, handmade by the designer all is MADE IN ITALY. "CHIPS KEISHI PEARLS" , waterpearls are from exclusive
French Polynesia cultivation and any imperfections characterise and emphasise the uniqueness of each one.
The pin back of the hoops are nickel free.



Price 65€ +shipping